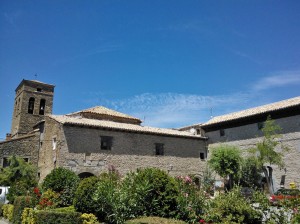 ….
Not resided in any Lineage Javierregay Infanzón: so the Council Certified 15 June 1737, 21 October 1787 and 29 January 1788, after making the relevant information. Therefore we will deal exclusively with the nobles who exercised, at any time, his lordship over this town, were:
Pedro Cornel.- It was the singular of Cornel got a large family heritage 1276, Thanks to the support they gave to King Pedro Cornel Aragonese Pedro III, (1276-1285). Among the goods listed Villas and Castles Wife, Service, Araguás of Solano, Aragüés Port, Javierregay, New, Grosin, Aísa, etc.. And also some small villages, as Ordoves, in Val Serrablo. Alfonso III , later, when its ambiguity on the issue of confrontation between the King and the nobility was exposed – 1289-, would claim to that nobleman returning several castles, including that of Javierregay, effectiveness without have to 1293, under the reign of James II, and other perks in exchange for.
Artal of Orta.- The Orta Aragon are very old and were always taken as notorious Infanzones. In 1298 King James II sold Jabierregay this character, following some of their descendants in possession. This lineage was also seated in the towns of Embún and Done. Catalina Garces, of Jabierregay, contracted marriage with Juan Miguel López de Fanlo, and one of his sons, Pedro López called Fanlo Farces, He settled in Huesca, marrying Maria Engracia Artos; and their offspring, Eugenio Lopez Fanlo and Artos, married in Alquezar with Jacinta infanzona God, the successor was Julian Lopez of God Fanlo, Salba Hidalguía who won before the Royal Court of Aragon 1766.
José Cabero.- It is considered to this lineage as natives of the mountains of Jaca, back in the twelfth century, and settled in the place of Beberre, next to this city, where left many members were founders of several branches. Without knowing your genealogy, we emphasize the importance of José Caballero Cabero, appearing as Lord and owner of Gay Jabierre there a Mansion in the census of hot flashes 1495, in which individuals of this name is also recorded, of Embún, Santa Engracia, Rasal (Lords of Sigüés) y Aísa. In the next century, Isabel Cabero Lanuza, was the last of this name who held the Lordship.
Sanz de Latrás, Counts of Atarés.- The antiquity of this lineage goes back to the years of 966 where Iñigo Sanz, initiator of the race, appears as Lord Mayor of Aragon, in the document signed by King Sancho Garcés, giving the Villa Pina to the Monastery of San Juan de la Peña. One of his successors, García Sanz, became strongly 1111 Castle Atares, that belonged, and another called Ximen Sanz, Justice of the Kingdom was in 1134. In 1190, Guillén de down, Vizconde de Bearne, made the assignment of the town of Pedro Sanz Latrás, Lord of Atarés, adding the name of it to his surname, because of this Lordship. Their descendants, and Sanz de Latrás surnamed, were happening, interviniedo alugnos them on important facts Aragonés Reyno, until in the years 1560 Pedro Sanz de Latrás, who participated in the siege of Malta and Flanders and directed the Pacification of the rebels against Ferdinand of Aragon Ribagorza, Conde Duque de Villahermosa and Ribagorza, and courageously opposed the Béarn in the town of Biescas. He married Isabel Cavero Lanuza, Lady Javierregay, that his mother also had, rights and places Gratal Puibolea. He followed the above as Lord and Javierregay Latrás, Juan Sanz de Latrás and Cacero, resident in Huesca, Hidalgía winning firm in 20 December 1604, and two hundred slaves fought the French who invaded the Anso Valley, so the 5 November 1625 was awarded the noble title of Count of Atarés, attending Aragonese Cortes of 1626, with his son. He married twice, the first Gaztelu and Eleanor of Eza, and the second with Ana Gutierrez of Comargo. Were your brothers Martin (Paje by Felipe II) Jerónima and Sanz de Latrás and Cavero (religiosa the Sigena).
It was Juan Sanz de Latrás, II Conde de Atarés, Knight of the Order of Santiago, and Lord of the Baronies and Castles Latrás, Ligüerre and Javierregay, and places of Anzanigo, Sieso, Art, Grass, Escalete. He served as Master of Field and Gentile man Juan de Austria House, and took part in the Cortes of Aragon held in 1646. Contracted two marriages, one with Maria Ocon, and another with her niece Magdalena Sanz de Latrás and AGULLANA. He had two daughters named Luisa (wife of Count and Baron Castelflorite Antillon), and Mary (that the widow of Pedro Lanuza, Count of Plasencia, professed as a Capuchin and founded the convent of this Order in Huesca.
The third was Atares Condesa Leonor Sanz de Latrás and Gaztelu, sister of the previous; married Juan Funes de Villalpando and Arino, Marqués de Osera.
And the fourth holder of this Title, Pedro José Funes de Villalpando and Sanz de Latrás, husband from 1705 Francisca Abarca Bolea and Bermudez de Castro, daughter of the Marquis of Torres and Barons Siétamo, being inherited by Juan Pedro Funes de Villalpando and Abarca Bolea, V Conde, who was awarded the greatness of Spain's 2nd Class 20 November 1725 by King Philip V. He inherited his son Cristobal de Villalpando Pius Funes, Count VI and Atarés Villar, Baron de Gurrea, Gentleman of the Chamber of S. M., Steward of the Princess of Asturias and Knight Grand Cross of the Order of Carlos III. On his death the title became vacant, which was later rehabilitated 1884 by Maria Isabel Villanueva and Nieulant.
THIS IS A LITTLE HISTORY Javierregay…
AFTER, Great Genius was born Oscar Artaso (alias Grillo). La Martina was filled Large Tasters Birra, Illustrate the command of Luciano García (Lu alias for friends). Llegó el Bar-restaurant Archivolts, the blacksmith to make buying bikes competition Lu and etc., etc.… (It will).
Best regards, LU, Jaca to 28 January of the Year of the Lord 2010.